10 years ago, this was a clothing factory that employed almost 5000 workers
Once called the Tak Fat garment factory – it is now being renovated and converted into a creative coworking space in Cambodia.
When it went bankrupt in 2009, thousands and thousands of pounds of brand new clothes were abandoned.
I'm always hunting for new projects to work on. When I met Laura Francois on the TedX stages in Penang, I offered to help with her mission to fight against fast fashion… on the condition that she find me the raw materials to work with. Somehow, with the help of an ethical clothing company called Dorsu, she stumbled across this gem.
We wanted to give these mouldy clothes a second chance.
The first step was figuring out what materials we had available. This meant sorting through bags and bags of rat-infested clothes laying all the pieces out on the ground for us to work through.
And start a brand new conversation.
I didn't know this prior to meeting Laura but fashion is one of the biggest polluters on the planet.  This means that each piece of clothing we buy has a hidden environmental cost to the air that we breathe and the water that we drink.
Volunteers, many that hardly spoke any English, joined us in our quest.
With the help of Facebook, Instagram and Telegram, we reached out to the local community and invited them to join us on our quest. Some volunteers came from as far as Indonesia, Malaysia and Singapore to come give us an extra hand.
We only had access to basic tools – like fishnet, bamboo and rope.
We bought our supplies from a local market close by. Since we never found a corporate sponsor, we had to try and find the most economical way to hold the entire structure together so we stuck to the basics, troubleshooting as we went.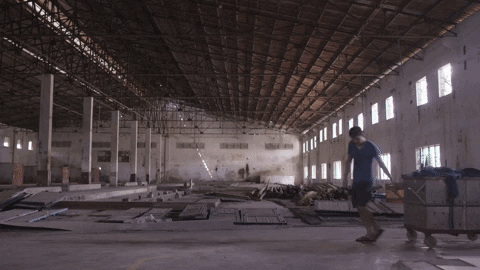 But with the help of some sketchy scaffolding and a little bit of experimentation…
At 1$ a day to rent a piece of scaffolding, sketchy was an understatement. Nevertheless, by the end of the project – we had become experts at building it up and tearing it back down in record speed.
Combined with some practical effects and photography magic
We used flour to create a natural mist around the installation to make the scene look like a rushing waterfall.
We were able to transform these forgotten clothes into brand new installations.
It's hard to believe but it takes 2700 L of water to produce a single cotton t-shirt.
We simply wanted to create installations that would remind people of where their clothes were born.
Built out of bamboo and strips of cloth, our tree was the simplest of all installations and on many ocassions we were worried if it would fit in with the others.
After 1.5 years of work to bring this project to life, we realized one thing
By placing a single light with an orange gel, hidden behind our tree of clothes with a little bit of smoke bleeding in, we were able to transform a boring hallway into something more magical.
That every one of us has the power to simply wear fewer clothes.
See how this project came to life, and learn more about what you can do about it at clothingtheloop.org
Media Requests
Feel free to quote and publish the photos in your online publication (please credit & link back to the original). Video stringouts are available upon request.
High-rez press images, BTS and more can be found in this dropbox link. Specific Terms of Use can be found here.
Commercial requests and rights: suzy@suzyjohnston.com
Interview requests: ben@vonwong.com
Credits
Producer: Von Wong & Laura Francois
Production Assistant: Pheakday
Videographer: A. Todd Smith
Social Coordinator & BTS: Pete De Marco
First Assistant: Hengky Irawan, Horm Unna, Kim Khun
Designer: Ly HengYou
Volunteer Models: Ly HengYou, Lou Tou, KamraMAN
Volunteers: Anna Ewen, Boramey Bun, Bruna Bersch, Bun Boramey, Chu Wong, Cindy Charles, Claudio Montesano Casillas, Constance Boullier, David Tito, Derek Pasn, Donna Beswick, Evelien Stichelmeyer, Francois Le Nguyen, Hanna GuyJanet Tartaglia, John Doctor, KamraMAN, Keat Sunny, Kim Sunny , Kim Chhay, Lee Hudson, Lou Chikang, Lou Tou, Mac Ernelson, Matt Baddley   , Natalie Seisser , Oyen Rodriguez, Regie Pertacorta, Rohim Yousos, Romane Loup, Saad Khan, Sam Dy, Scott Rotzoll, Sindy Vand, Sok Kanha , SunRethy Kun, Thong Senghorng, Vincent Rufo, Zoe NgSpecial thanks to The Factory at Phnom Penh for hosting our installation
Want to join a future project? Make sure to join my Telegram broadcasts: t.me/thevonwong