Last year, I stood on a stage offering to help anyone make a difference in the world. I was approached with a question:
Can you recognize Hunger?
I thought I could, until I had a conversation with the folks from the Second Harvest Food Bank. They told me that in the heart of Silicon Valley which houses dozens of billionaires – 1 in 3 children struggle with hunger.
    It gets worse.
When summer vacation comes, those same kids are left without access to free/reduced meal programs from school.
Unfortunately, sob stories and sad photographs don't really do well on social media, so we wanted to try a different approach. We decided to do a photoshoot that would highlight kids as heroes, on an epic quest to get food.
For these kids, getting access to a regular breakfast becomes Mission Impossible.
---
There was only one iconic scene that came to mind when I thought of an impossible mission – That of Tom Cruise dangling from the ceiling.
Suspending a kid from the cafeteria in Martha's Kitchen wasn't going to be possible, so we came up with a DIY solution instead featuring two strong men, a long metal pole and some galvanized cable.
Makeup artist Lien Delong teamed up with costume designer Jennifer Gonsalves and armor creator Posh Fairytale Couture to transform our ordinary kids into bite-sized heroes.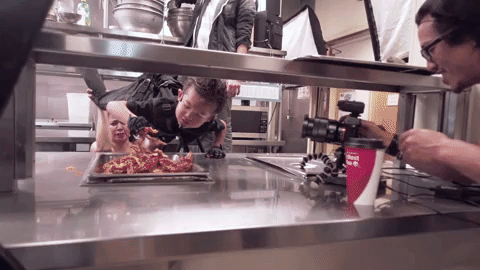 Sometimes they have no choice but to embark on treacherous climbs or dumpster dives, just to get access to fresh produce.
---
The most intrepid climbers to me are those who try to tackle Everest, so we decided to recreate the same by having Damian scale the side of Second Harvest's very own commercial freezer.
Safety first though, meant that Damian was actually sitting on someone's head rather than climbing, while I hung my camera precariously over the edge.
Every trip to the grocery store suddenly becomes a battle between an empty stomach and an empty wallet.
---
Knights ride horses to battle. Arteaga's didn't seem too keen on horses in their grocery store, so we opted instead for a shopping cart.
To create our motion blur, we needed a narrow beam of light capable of hitting Rory without affecting the surrounding environment. We accomplished that by taping magazines and newspapers to our Broncolor Beauty Box.
Once that was done, Asa our heroic volunteer could then push the cart steadily back and forth at the exact same speed as my camera to capture the perfect charge.
And discovering a snack in the pantry is like unearthing buried treasure.
---
In San Mateo and Santa Clara counties, jungles were in short supply. Thankfully, all it took was a few borrowed plants from Orchard Supply Hardware Store to create our own.
The plants were then placed strategically to hide the playground while a small LED light panel was placed directly under Kiersten's excited face.
It shouldn't be this hard to get food. Especially not for kids.
---
Of course, words can only describe so much.
This Behind the Scenes video of our project by Valentina Vee, however, tells the story far better than I ever could.
First world child hunger is a real problem, but there are people fighting so that children don't have to.
The Second Harvest Food Bank is one of those groups, delivering over a million healthy meals every single week. All year round.
We've all experienced how much it sucks when hunger hits and there's no food to be had. Imagine growing up and having to live with that experience every single day.
Someone you know is probably living through that very struggle.
To help spread the word, we've created a series of memes that you can share for free.
Here are a few of them:
Last but not least, if you want to support the amazing work that the Second Harvest Food Bank is doing, you can click here to donate. With only a 50 cent donation, Second Harvest can deliver a meal to a child in need.
Thank you for sharing this story and joining us in the fight against first world child hunger.
Media Requests
Feel free to quote and publish the photos on your online publication (please credit & link back to the original post). High-rez press images, BTS and more can be found in this dropbox link.
Commercial requests and rights: suzy@suzyjohnston.com
Interview requests: ben@vonwong.com
Announcements
Credits:
Photography: Von Wong
Video: Valentina Vee
Producer & Second Harvest Evangelist: Alisa Tantraphol
Models: Dax Slate, Damian Fierro, Maliah Bargas-Good, Rory Chronister, Kiersten Royce Baloto
Stylist: Jennifer Gonsalves
Makeup: Lien Delong
Armor: Posh Fairytale Couture
Assistants: Asa Mathat, Colin Liepmann, Ian Tseng, Elena Will, Philip Puma, Syd Indman, Miyuki Hara, Rama Sivamani, Kerry Jones
Special thanks: Martha's Kitchen, Arteaga's Food Center, Sacred Heart Nativity School, Second harvest Food Bank of Santa Clara & San Mateo Counties
Sponsored by Lise Buyer