As a child, I always wondered what it would feel like to run on air. Martial art epics such as Crouching Tiger, Hidden Dragon had me dreaming of what life would be like if I could just defy gravity.
As an adult, I began to realize that the laws of physics didn't care much for my dreams. Unwilling to give up so easily, I found other ways to adapt – using my camera to bend reality and shift perspectives.
On my last project in July, I found myself trying to do just that: palms sweating, 30 stories up, in Manila, Philippines.
The whole adventure began when I received a challenge from the largest shoe company in the world.
I was ecstatic and terrified. On one end, I wanted to reply with something crazy. On the other, I didn't want to scare them away. This after all, seemed like a once in a lifetime opportunity.
After an intense brainstorming session and a restless night of sleep, I made a commitment to pitch "crazy" rationalizing that if they were reaching out to me… it was probably not to do something conservative.
Me: "I want to showcase everyday people defying gravity a 1000 feet up in the air "
Them: "Do you know how ? "
Me: "Nope… but I'm sure I can figure it out!"
And just like that, I had their blessing to do (virtually) whatever I wanted to bring the project to life. Suddenly, all the pressure was on me to actually bring the idea from concept to reality. There was no rulebook on "how to hang people from skyscrapers" or "what equipment to use" and suddenly I found myself locked in a battle between what I wanted to create in my mind… and what was actually doable.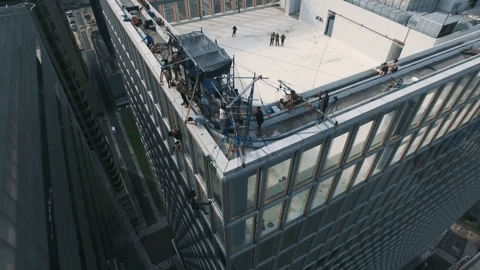 As an artist, I always like to push things one step further.
For example,  we couldn't "just use a tall building". I wanted a tall building that was close to another tall building, so that I could get an interesting perspective.
There was no way we were putting people in a standard fall harness.  It had to be a form-fitting harness with side-mounting points so that our models could run comfortably and not have straps dangling all over the place.
Oh,  and speaking of models, I had no interest in using "a professional stuntman or stuntwoman" for the shot! I wanted to give the opportunity to social entrepreneurs that were making the world a better place!
And what if they were scared of heights? One location wouldn't be enough, we needed a second location that's lower just in case… and it had to be an interesting building!
The days flew by as the team tackled one request after another until suddenly, there were no more days left for me to hide behind.
I had sold a grand vision – and everyone had bought into it. Even our models, social entrepreneurs and community leaders had agreed to come in for the experience of a lifetime. All around me, dozens of people had woken up as early as 4 AM to start setting up scaffolding, wires and winches all so that I could have a chance at capturing a gravity defying moment.
Deep inside, I worried. What if, after all this work – my idea didn't work. What if I disappointed everybody?
Fortunately for me, there wasn't too much time for me to think and wallow in self-doubt. There was too much to do.
Lights had to be placed in mid air, I had to balance in mid air, and models that had hardly any experience modelling – all had to be placed in mid air.
With the minutes flying by, it was a race against time to get everyone looking good in camera while dangling out over the abyss.
Over and over my newly trained models would leap out – pushing themselves and contorting into dynamic positions that would fit the camera's perspective. As athletes, they were no stranger to pain and repetition making this surprisingly easy despite their lack of experience.
And just as quickly as it started – it was all over. Following a round of high fives, selfies and a quick teardown of the scaffolding and gear – all that remained of our crazy experience were photos, a video and an exciting story.
Video directed by Valentina Vee, Shot by Ian Celis Productions
Stories have the power to inspire action. I experienced that first hand by looking back on my life and seeing how the stories I read are present in the work that I create today.
Almost everyone I show the images to ask me the same question: Are you done editing these? Why didn't you photoshop out the harnesses? The shots would look better without the wires!
They're not wrong but to me, the story is the most important part… and editing the wires out, take away from the story.
By showcasing everyday people doing extraordinary things, I hope that viewers, will feel empowered to challenge themselves, support others and to pursue amazing life experiences of their own.
With that, let me introduce you to our everyday heroes:
Krizanne Ty and Nikka Arcilla:
Krizanne and Nikka are two former college athletes who wanted to give back to their community. Despite having day jobs as a Fixed Income Trader and Product Marketing Manager respectively, they founded Girls Got Game (GGG), a roving sports camp designed to empower less fortunate, young girls all over the Philippines. By teaching the basics of team sports, GGG aims to instil values like confidence, goal-setting, teamwork, and grit, so that these girls can ultimately pull themselves out of poverty. Two years after its founding, Girls Got Game has conducted 10 camps and reached over 1,000 girls.
Mike Swift is a Filipino rapper and host. Having grown up in New York City and seeing the positive effect of basketball with out of school youths, Mike wanted to bring the same impact to underprivileged communities in the Philippines. He spearheaded the creation of the Picnic Games, a tournament which brings together local Filipino culture and basketball to the Tenement Community in Bicutan. Through PinoyHoops with his  #EveryCourtCanDream projects, he raises awareness on the situation of barangay courts, like The Tenement, around the country that need funding and development to help uplift young aspiring basketball players.
Ian is a Nike+ Run Club coach, triathlete, crossfit athlete, and a doctor. While she seems to have it all, the journey to get there was very difficult. With virtually no social life in school juggling academic and athletic scholarships, Ian believed she could do all her sports while going through medical school. At one point, she was even discouraged her from taking the medical licensure exams because they thought she wasn't serious about being a doctor and was putting too much time into sports. Ian not only played sports – she excelled in them. Today, Ian fights the stereotype of a "fit girl", promoting Strong as the New Beautiful while also taking time to coach and help out in her community.
Bryan has always been passionate about environmental conservation and sustainable development.  After taking a bamboo bike making course, Bryan returned back to the Philipines and connected with the poor rural village community of Gawad Kalinga.  Employing Gawad Kalinga residents, he researched and developed the best bike structure using bamboo (usually seen in the Philippines as "poor man's timber") to create a social-ecological bike line: Bambike.  After 9 years of living and working in the Philippines, Bryan has many new projects under his sleeves planned to continue developing sustainable and socially responsible products.
Media Requests:
Feel free to quote and publish the photos in your online publication as long as you are only using them for personal non-commercial use (please credit & link back to the original post).
High-rez press images, BTS and more can be found in this dropbox link. Specific Terms of Use can be found here.
Commercial requests and rights: suzy@suzyjohnston.com
Interview requests: ben@vonwong.com
Announcements:
I am speaking for FREE at Creative Live. Sign up to see it here.
Credits: