Fiji is known to ecotourists around the world for its world-class shark dives.
As a photographer looking to create meaningful work, this was the perfect opportunity for me to create a series of images that would promote their beauty while advocating for their protection.
Sharks are almost always depicted as menacing and terrifying, yet it is humans that are responsible for killing them in the millions just to make soup. I wanted to create a series of images that would help break those stereotypes and show that it is possible for us to co-exist together in perfect harmony.
One problem: I didn't know anyone in Fiji that would help me tie down a model while sharks swam around.
Finding a dive shop that would be interested in helping me transform my vision into reality was a huge challenge. Not only did they have to be available, they also had to believe that creating a shot like this would be possible.  Although there was some interest, it wasn't until a few days after I landed in Fiji that things started to fall into place.
Through the help of a couple supporters, Ropate & Konrad, along with a half-dozen emails and phone calls, I was finally introduced to the right people: Tourism Fiji and the Barefoot Collection. Despite the tight time frame, they would provide us with a full team of support divers as well as their in-house marine biologist & shark expert Thomas Vignaud. Just like that, we found ourselves creating a shark shepherd to promote the creation of shark conservations.
See the magic come together in this two-minute video:
Shooting a model with sharks was even more complicated than shooting models in an underwater shipwreck.
In addition to the standard complications of shooting underwater – Limited oxygen, complex communication, specialized equipment and experienced divers – we only had a tiny two-hour window every day, between 11 AM and 1 PM, where the sharks would be active and light rays visible.
For each and every shot we would weigh down Amber Bourke, our champion freediver, onto the perfectly lit rock formation where light was falling. The ethereal white dress, designed specifically for this shoot by Ali Charisma, would have to be carefully placed so that it would flow beautifully into the image. When all was finally in position, we would hand over the three-piece plastic shepherds crook to amber and begin the wait.
Over the course of three days, we waited over six hours.
Though popular media would tell you that sharks come swarming at the slightest scent of blood, death and suffering, our experience with them was the complete opposite.
Similar to squirrels at a park, the white tipped reef sharks would hover around us curiously only to scamper off if anyone got too close.
Hoping to get the sharks in perfect position, our entire team tried their best to hug the walls and not make any sudden movements to not startle the timid creatures.
Once one of them got deep enough into the cave and we thought there was a good chance of us capturing a shot, Amber would take a deep breath, rip off her mask and strike a couple of poses for as long as she could.
Having the privilege to dive with sharks, learn more about them and showcase their unique beauty, was one of the most amazing experiences that I have ever had the opportunity to be a part of. Although Sharks are currently on the road to extinction, it is still possible to find pockets of magic like these.
I hope that everyone gets the chance to experience their grace in person – but until then, join me in encouraging the creation of shark sanctuaries by signing this petition.
Media Requests
Feel free to quote and publish the photos on your online publication (please credit & link back to the original). High-rez press images, BTS and more can be found in this dropbox link.
Commercial requests and rights: suzy@suzyjohnston.com
Interview requests: ben@vonwong.com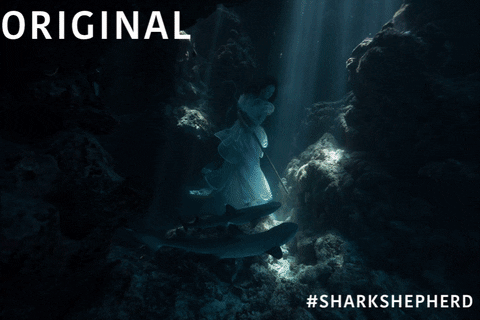 Credits:
Photography: Von Wong
Video editing: Adam Frimer
Sound Design: Andrew Kesler
Model: Amber Bourke
Dress designer: Ali Charisma
Underwater video operator: Steve Hathaway – Young Oceans Explorers
Drone operator: Joost Glaser
Shark Expert: Thomas Vignaud
Dive Team:  Lydia Murray, Kris Mcbride, Rachel Young, Carlo Acosta
Special thanks: Barefoot Collection, Tourism Fiji, Nauticam
Screenwriting: Yonatan Kanaskevich
Copywriting: Marlies Gabriele Prinzl
Conservation partner: Shark Stewards
Shark facts:
Sharks are a keystone species and are responsible for the health of ocean ecosystems. They eliminate the weak, the diseased and the dead, maintaining the ecological balance and the future health of the ocean.
Every year, tens of millions of sharks are killed by humans. On average, sharks kill less than 10 people a year.
Shark fins contain mercury and nearly no nutritional value. Most shark meat is unpalatable. They are mostly eaten as a status symbol by the Chinese.
Currently, shark ecotourism brings almost 1 Billion US worldwide, and is expected to grow 2 fold in the next 20 years.
There are over 450 species of sharks, most cause no harm to humans.
Gear Used:
Sony A7r-ii, 16-35mm – Nauticam Housing + 180mm Dome Port
Announcements: